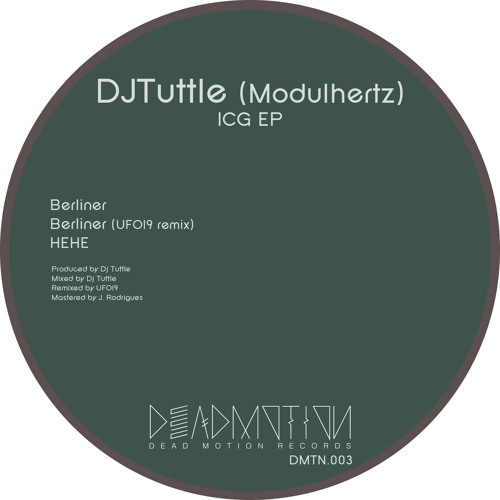 Title: Dead Motion 003 - DJTuttle (Modulhertz) - HEHE (preview)
Upload Date:
25 February 2014
Uploader:
Dead Motion Records
Description:
DJTuttle (Modulhertz)
'ICG EP'

1 - Berlinder
2 - Berlinder (UFO19 Remix)
3 - HEHE

DMTN 003

DJ Tuttle was born in 1972 in Nancy.
At an early age, DJ TUTTLE plunged himself into the sounds of 70's discofunk and 80's New Wave.

At only 14 years of age DJ TUTTLE played his first gig andof 17 he became DJ resident in his first club, the SCALA of NANCY, where he started programming the first sounds of newbeat and hiphouse.

At the same time he started composing songs on the computer and with the sampler.
In 1990, he created a techno program, which he taught for the first time within a school.
At the same time, he travelled back and forth to Frankfurt, Brussels and Lille looking to extend his disc collection and exploring the legendary clubs such as Bocaccio and Dorian Gray.

In 1994, he moved to Lille in the north of France, where he met DJ ADOLPHE (USA IMPORT), who was a famous disc jockey during this period.
DJ Adolphe helped DJ Tuttle to get bookings for several rave events and clubs in France and Belgium. During this time he also released his first single with STEELWORK records (USA IMPORT).

He met ZZINO the label manager of RELOAD records during one of his gigs. He listened to his tracks and got him several contracts with several famous labels such as RELOAD-SUBSOUND-futur FRONTIER which includes names such as Sven Väth, Dave Clark, Pascal Feos and his now close friend DJ CHICH.

In 1998, DJ TUTTLE became resident in the L'USINE and more gigs followed in France and other countries doing DJ LIVE SETS in clubs like the REX CLUB FR, LA COVA ES, LE RACHDINGUE ES, GOLT MILK FR, GOLIATH CH……
During this time, he created his best ever discographie and played at numerous big name events.

Recently he signed a contract with the label A.PAUL (NAKED LUNCH et PARALLEL 125) also with TORZTEN KANZLER's label (TK RECORD) working together with his good friend DJ CHICH.

It is with pleasure to announce that they have also started a new label called " MODULHERTZ REC " with sounds coming from Detroit. (Detroit Chicago).

http://www.discogs.com/artist/DJ+Tuttle

https://www.facebook.com/pages/dj-tuttle/155186487915007?ref=hl
https://soundcloud.com/djtuttle
http://www.beatport.com/artist/dj-tuttle/60231
https://soundcloud.com/modulhertz-rec

Free streaming music Dead Motion 003 - DJTuttle (Modulhertz) - HEHE (preview) by Dead Motion Records from SoundCloud. Free download your favorite music from SoundCloud easily, without installing any software, simply by cliking the Download button below. Dowload Dead Motion 003 - DJTuttle (Modulhertz) - HEHE (preview) by Dead Motion Records to listen offline.
Listen:
Download:
Disclaimer: We don't host or cache any audio/music files on our server. All audio/music files are hosted on SoundCloud server(s). This track was uploaded by Dead Motion Records on SoundCloud. Free download of Dead Motion 003 - DJTuttle (Modulhertz) - HEHE (preview) is available for preview purpose only. Please consider buying original CDs/DVDs/digitals to support the artist.
Related Tracks: