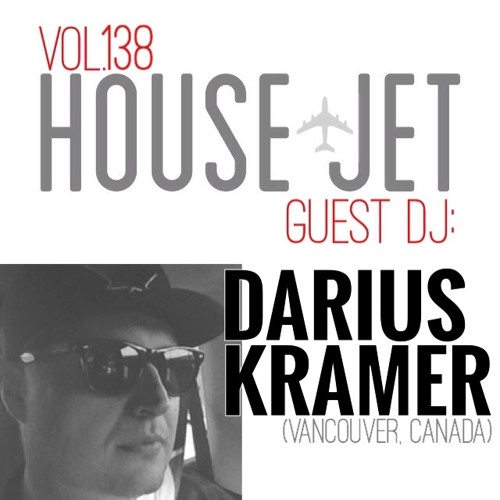 Title: VOL.138 DARIUS KRAMER (VANCOUVER, CANADA)
Upload Date:
28 July 2015
Uploader:
HOUSE JET RADIO
Description:
HOUSE JET RADIO VOL.138 GUEST DJ: @DARIUS-KRAMER (VANCOUVER, CANADA)

SOCIAL MEDIA:
https://www.facebook.com/pages/DJ-Darius-Kramer/1430692280556037
https://www.mixcloud.com/DariusKramer/

TRACKLIST:
1) L.A Night - Housego
2) Midnight Groove (Original Mix) - Stranger Danger
3) Antidope (Original Mix) - Paul Youx
4) Lamaj (Original Mix) - Brame, Hamo
5) Gypsy Jazz (Original Mix) - Stranger Danger
6) Change My World (Jason Hodges Remix) - Bryan Jones
7) 3rd Eye Groove - R.E.D
8) Underwater vs. Hipshaka (Cat Scratch Remix) - Matt Shrewd vs Slater Hogan & John Larner
9) Garlic Fist Pump - Brame, Hamo
10)Still Jazz - JT Donaldson
11)Fools Believe - Samma Lone
12)Move It - Sebb Junior
13) Sun Spots (Original Mix) - Ryan Truman

BIO:
Darius is a self proclaimed "House Addict". He fell in love with the house sound as a teenager living in Montreal back in the early '90s when he would stay up late on Friday nights and record a dance mix show on Montreal radio. He was hooked from then on. He then proceeded to start mixing with one tape deck and a cassette player and never looked back. When he moved to Vancouver in the late '90's, he started buying records almost daily and spent most of his free time at his favourite record stores at the time, Bassix and Mekanix records. Over the next few years, Darius held various residencies and ran 2 club nights in Vancouver, playing alongside such talent as Lawnchair Generals and Johnny Fiasco, as well as playing at numerous after hours and raves. Today, Darius is happily married with a young son, but his love for house music hasn't died. He is still busy putting out mixes and in 2015 is doing some exclusive guest mixes for International house collectives such as House Salad Music in Mexico, Little Routine in France, Reason2Funk and Uglyhouse in England. His sets have been described as "organic" and his love for jazz is prevalent in all of his mixes.

Also in 2015, Darius has launched a monthly podcast entitled "Soul Room Sessions" with the support from House Salad Music, Reason2Funk, and Little Routine crews. The goal of this project is to promote the jazzy/soulful side of house music and features exclusive guest mixes by some of the biggest DJ's in the world!

For booking info, contact [email protected]
Free streaming music VOL.138 DARIUS KRAMER (VANCOUVER, CANADA) by HOUSE JET RADIO from SoundCloud. Free download your favorite music from SoundCloud easily, without installing any software, simply by cliking the Download button below. Dowload VOL.138 DARIUS KRAMER (VANCOUVER, CANADA) by HOUSE JET RADIO to listen offline.
Listen:
Download:
Disclaimer: We don't host or cache any audio/music files on our server. All audio/music files are hosted on SoundCloud server(s). This track was uploaded by HOUSE JET RADIO on SoundCloud. Free download of VOL.138 DARIUS KRAMER (VANCOUVER, CANADA) is available for preview purpose only. Please consider buying original CDs/DVDs/digitals to support the artist.
Related Tracks: